Obituary: Silver Screen Legend, Shek Kin, Passed Away at 96 Years Old
By jayne on June 25, 2009 in Obituaries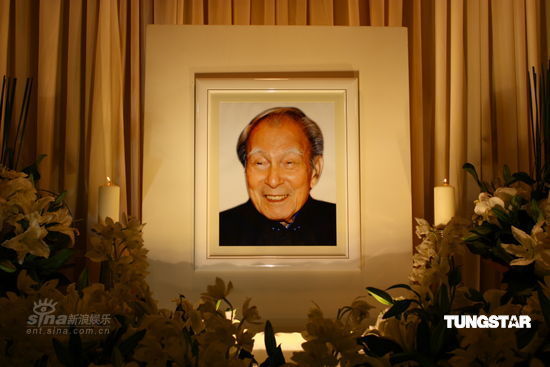 Earlier, Shek Kin passed away due to kidney failure. He was 96 years old. Shek Kin's funeral was held yesterday. Shek Kin's son greeted the press and said, "I would like to thank you for your concern." Many of Uncle Kin's former film co-stars bid their final farewells. In attendance at the funeral were Nancy Sit Ka Yin, Gordon Lau Ka Fai, Chan Bo Chu, Lo Wai Kwong, Tang Kwong Wing, Ng Man Tat, Ng Si Yuen, Kwan Ho Chuen, Cheung Tung Cho, etc.
The cremation will be held at 10:30 AM the following day. Uncle Kin's body will be cremated and the ashes buried at Pok Fu Lam Chinese Christian Cemetery, alongside his deceased wife.
Since Uncle Kin's family members wanted to keep a low profile for the funeral, the head table was covered by a white cloth. The family prohibited journalists from taking photos and videos and did not arrange for extended family members to gather around the head table to greet the guests. Uncle Kin's 9 grandchildren, along with their spouses, assisted with the funeral arrangements.
Nancy Sit arrived at the funeral parlor at 6 PM. She said that Uncle Kin was a kind gentleman, who watched her grow up. He adored Nancy and never yelled at anyone. When Uncle Kin was alive, his favorite foods were milk-tea and Western-style cakes. Uncle Kin was a dedicated and true martial arts master. Nancy's fondest movie which starred Uncle Kin was《奪命刀》and《三殺手》. Although Uncle Kin's death was heart-breaking, but he had lived a long life.
Ng Si Yuen noted that Uncle Kin had a very professional work ethic and was always punctual, qualities which the younger artists should learn. Ng noted that the Federation of Hong Kong Film wanted to make a short video clip for the Bruce Lee Memorial Hall earlier. They intended to invite Uncle Kin to appear in the clip, but his health was already in critical condition at the time. Ng noted that the Federation of Hong Kong Film was interested in compiling Uncle Kin's movies together and present it as a film festival.
Chan Bo Chu also praised Uncle Kin for his kind nature and care for younger artists. Chan Bo Chu and Uncle Kin collaborated in a dozen movies; the most memorable one was 《七彩女殺手》.
Tang Kwong Wing pointed out Uncle Kin's wonderful personality. Uncle Kin once confronted a uniformed Japanese solder in Guangzhou. When Tang Kwong Wing first started filming martial arts movies early in his career, he smashed a real knife against Uncle Kin's head. Although Uncle Kin was in obvious pain at the time, he consoled Tang Kwong Wing instead. Uncle Kin's memories will continue to remain with him.
Article Source: Takungpao
Jayne: Another veteran actor passed away. Younger TVB fans might remember Shek Kin from the 1980's version of "Legend of the Condor Heroes" starring Felix Wong. Uncle Kin, RIP….
Terms and Conditions of Use
.
How do you feel about this article?
Obituary: Silver Screen Legend, Shek Kin, Passed Away at 96 Years Old
Related Articles
No Related Posts.
JayneStars Media LLC reserves all copyrights. Reproduction in whole or in part without written permission is prohibited. By using the JayneStars website, you accept and agree to our