Celebrity Weddings: Angelica Lee & Oxide Pang
By jayne on November 30, -0001 in Celebrity Weddings, NEWS
Award-winning actress, 34 year-old Angelica Lee Sin Jie and Director Oxide Pang Chun got married on February 6, 2010. The pair dated for seven years before tying the knot. Allegedly, Angelica is currently pregnant with Oxide's baby, which will be due later this year.
Oxide Pang said his marriage vows and  shouted, "Let there be love for another fifty years!" The wedding was held at the Pangkor Laut Resort in Malaysia, under the witness of over 100 friends and relatives.  The wedding ceremony followed Chinese tradition, with the couple pouring tea for the elders. Oxide has ten siblings, so the newlyweds were surrounded by many family members. When Oxide put the ring on Angelica's finger, many people shed tears of joy.
Since Angelica and Oxide started dating in 2003, Angelica was often photographed with a young girl by her side. Angelica was often rumored to have a secret daughter. At the wedding, it was revealed that the girl, Yan Yan, was actually Oxide's daughter. Both Angelica and Yan Yan wore a white lace veil at the wedding, completing their "mother-daughter" look. During photographs, Yan Yan smiled brilliantly and the love and family bond among the three were apparent.
Angelica's Selfless Sacrifice for Love
Oxide acknowledged that Yan Yan was his daughter from a prior relationship. He noted that Angelica treated Yan Yan like her own daughter. "During my early career, while I was working in Thailand, I lived together with a local girl. She gave birth to Yan Yan. Due to our personality differences, she and I ended our relationship. I regained custody of Yan Yan; I would have regrets otherwise."
Due to his directing schedule, Oxide acknowledged the difficulties he faced as a father.  Fortunately, he met Angelica, who decided to live in Hong Kong for three years to selflessly take care of Yan Yan. "Those three years were the peak in Angelica's career. I had to go to the USA to film at the time. You can only imagine the sacrifices Angelica made."
Did Yan Yan affect Oxide and Angelica's relationship? Oxide said, "I love Angelica, so I want her her to be happy. When I witnessed the difficulties she had in taking care of Yan Yan, it made my heart break. At one point, we were separated for five days. We discovered we could not live without each other. So we decided to be together. I told Angelica at the time, 'These five days are in exchange for the next fifty years' love.' The world is full of love! As long as there is love, there is nothing to be afraid of. I will give back Angelica double the amount of love she has shown!"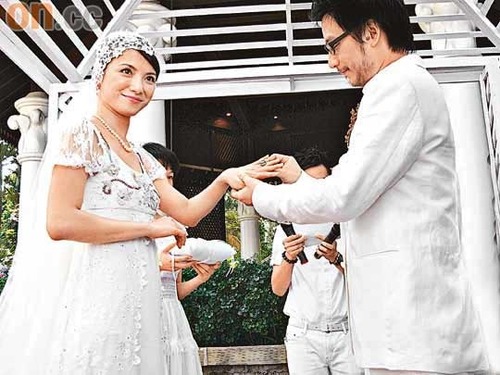 The Proposal
Four years ago, Oxide decided to send Yan Yan to study in Malaysia. Yan Yan lived with Angelica's family, who treated Yan Yan like a true "granddaughter." Oxide said, "Aside from thanking Angelica tonight, I would like to thank my mother-in-law as well!"
In his marriage proposal, Oxide self-directed and acted in a short video clip. He surprised Angelica with a custom designed diamond ring. After the wedding ceremony, the couple went to a  beach to take additional wedding photos. The groom knelt down and re-enacted the proposal in asking Angelica to marry him.
Elegant Wedding
Angelica's wedding gown was designed by her friend, Melinda Looi from Malaysia. Paired with a pearl necklace, the dress was simple and full of elegant charm.  In the evening banquet, the bride wore a purple gown designed by her friend, Yu Ka On. Due to the attendance of numerous friends and relatives, Angelica received many gold jewelry gifts.
Grateful for Happiness
After the wedding, Angelica shared her happiness in her blog, "I looked up at the evening sky and breathed in the air. I stood still and felt very calm. I asked heaven how can I be so happy?" Angelica noted that she will work hard to maintain her marriage. "We will be each other's soul mates in sharing life's joys and sorrows.  We hope to grow old and still walk hand-in-hand together. Under the warm afternoon sun, we can look at the wrinkles carved into our palms by the passing years in life.  My husband's maturity has always been tolerant of my wayward impulses."
Source: Compiled from entertainment.dbw.cn and stars.zaobao.com
Jayne: What a beautiful and heartfelt wedding! Angelica and Oxide's expression of love are lyrical and hopelessly romantic. Oxide appears to be a very appreciative man. Lucky Angelica! "Let there be love for another fifty years!" for this couple and other newlyweds!
JayneStars Media LLC reserves all copyrights. Reproduction in whole or in part without written permission is prohibited. By using the JayneStars website, you accept and agree to our