Margaret Chung & Joey Leung Broke Up?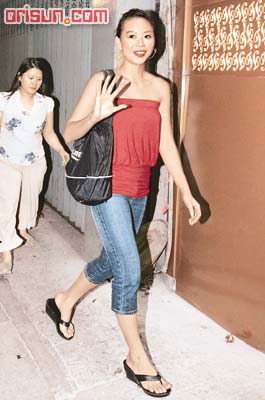 Recent rumors have circulated that Margaret Chung Lai Kei and Joey Leung Wing Chung's relationship is over. Margaret and Joey have been reluctant to comment directly on the status of their relationship.
However Margaret was spotted going out with another guy at a nightclub and she seems to have opened up on the topic. Reporters asked whether Margaret and Joey are no longer an item? Is she dating someone else now? Margaret answered, "We are still friends now. If there is any further development, I will announce it."
Margaret and Joey dated for many years. Since last year's scandal with Joey and Queenie Chu Wai Man photographed kissing in a car, Margaret and Joey's relationship have allegedly hit a bump.
Although Joey tried his best to repair his relationship with Margaret, all was not the same as before. There have been numerous break-up rumors since the car incident.
Allegedly Joey and Margaret have hinted that they are both seeing different people. Joey is pursuing a manager at the [HK] subway authority, while Margaret is seeing a dentist.
Last Monday, reporters spotted Joey and Margaret at a restaurant together. But after leaving the restaurant, Joey and Margaret's expressions were dark and they went their separate ways. It appears that all is not well between Joey and Margaret.
Meanwhile, the night before, Margaret was spotted with a man outside "No.9" Bar in Central at 11 PM. She appeared to be in high spirits. The man is in his 30's and they left together in his BMW. Margaret was all smiles all the way. They parked near the Four Season's Hotel and did not make another appearance until 1 AM.
Reporters phoned Margaret and asked whether she has a new boyfriend? But she said, "We are only friends!" (Did Margaret break up with Joey?) "I will not respond to that question."
Source: Sina.com, Orientaldaily
Jayne: Hmm…I guess time will tell whether Joey and Margaret have truly split up or not….